New Publications
Media Amnesia: Rewriting the Economic Crisis
Laura Basu
How the media has been complicit in sustaining free market capitalism.
From Donald Trump to Brexit and the resurgence of the far-right across Europe, what role has the media played in shaping our current political moment?
Following the news coverage of a decade-long crisis that includes the 2008 financial crash and the Great Recession, mounting public debt, the eurozone crisis, austerity and rising inequality, we see that coverage is suffering from an acute amnesia about the policies that caused the crisis in the first place. Rather than remembering its roots in the dynamics of 'free market' capitalism, the media remains devoted to a narrative of swollen public sectors, out-of-control immigration and benefits cheats. How has history been so quickly rewritten, and what does this mean for attempts to solve the economic problems?
Going behind the coverage, to decode the workings of media power, Basu shows that without a rejection of neoliberal capitalism we'll be stuck in an infinite cycle of crisis.
Argentina Betrayed: Memory, Mourning, and Accountability
Antonius C. G. M. Robben
The ruthless military dictatorship that ruled Argentina between 1976 and 1983 betrayed the country's people, presiding over massive disappearances of its citizenry and, in the process,
destroying the state's trustworthiness as the guardian of safety and well-being. Desperate relatives risked their lives to find the disappeared, and one group of mothers defied the repressive regime with weekly protests at the Plaza de Mayo in Buenos Aires. How do societies cope with human losses and sociocultural traumas in the aftermath of such instances of political violence and state terror?
In
Argentina Betrayed
, Antonius C. G. M. Robben demonstrates that the dynamics of trust and betrayal that convulsed Argentina during the dictatorship did not end when democracy returned but rather persisted in confrontations over issues such as the truth about the disappearances, the commemoration of the past, and the guilt and accountability of perpetrators. Successive governments failed to resolve these debates because of erratic policies made under pressure from both military and human rights groups. Mutual mistrust between the state, retired officers, former insurgents, and bereaved relatives has been fueled by recurrent revelations and controversies that prevent Argentine society from conclusively coming to terms with its traumatic past.
Memory after Humanism
A special issue of Parallax 23.4 (2017), edited by Kári Driscoll and Susanne C. Knittel
In recent years, a number of publications devoted to the 'future of memory' have charted the potentials and limitations of the field of memory studies as it enters the Twenty-First Century. The field has seen a trajectory from 'sites' to 'dynamics' of memory, from national to transnational and 'multidirectional', from collective to cultural to transcultural memory. A series of critiques have shaken some of the field's foundations, for example the universalization of victimhood, or the (Western-centered) concept of trauma. The 'posthumanist turn' in the humanities and social sciences has so far not made a significant impact on the field, however. This is no doubt due to the fact that, perhaps more so than any other recent field, memory studies has been fundamentally committed to a liberal humanist conception of the subject. Emerging as it did in response to the dehumanizing experience of WWII and the Holocaust, it is perhaps not surprising that the question "if this is a man" (Primo Levi) should have been a crucial concern for the field. It was important that this question be answered in the affirmative. But this also meant that the identity and constitution of the human could not at the same time be called into question. In light of poststructuralist and posthumanist critiques of the subject, however, it has become clear that the answer to this question is much more radically indeterminable. How can this indeterminability be made productive for a critical re-evaluation of the field of memory studies? What would a posthumanist memory studies look like? Who or what is the subject, and who or what is the object, of memory studies? What, in short, is memory studies the study of? In order to explore these and related questions, the contributions to this special issue bring memory studies into conversation with the fields of posthumanism, disability studies, animal studies, ecocriticism, new materialism, feminism, and critical race studies. The issue features a combination of full-length essays and short responses or 'position papers' by leading scholars and early career academics in these diverse fields.
The introduction as well as several of the contributions have been published open access, see:
http://www.tandfonline.com/toc/tpar20/23/4
Audiovisual Memory and the (Re)Making of Europe
A special issue of Image [&] Narrative 18.1 (2017), edited by Astrid Erll and Ann Rigney
This special issue was one of the outcomes of the EU-COST project
In Search of Transcultural Memory in Europe
(2012-2016). Through a series of case studies it demonstrates how film and television are helping to create a transnational memory culture in Europe; it also shows the limits of these processes by revealing new strategies of re-nationalisation. It includes an essay by Judith Keilbach (MCW) on the documentary
Holocaust
and how it was adapted for English audiences.
Available open access at
http://www.imageandnarrative.be/
Transnational Memory. Circulation, Articulation, Scales
NOW OUT IN PAPERBACK!
Edited by Chiara De Cesari and Ann Rigney
How do memories circulate transnationally and to what effect? How to understand the enduring role of national memories and their simultaneous reconfiguration under globalization? Challenging the methodological nationalism that has until recently dominated the study of memory and heritage, this book charts the rich production of memory across and beyond national borders. Arguing for the fruitfulness of a transnational as distinct from a global approach, it places the issues of circulation, articulation and the scales of remembrance at the centre of its inquiry. In the process, it sheds new light on the ways in which mediation, post-coloniality, migration and regional integration affect both the way we remember and the role of memory in contemporary societies. In this interdisciplinary collection, humanities and social science scholars examine a rich sample of cases from the nineteenth century on, stretching across the globe from Vietnam to Europe and the Middle East, to the USA and the Pacific, and involving a wide range of cultural practices from quilting to films, from photography to heritage sites and monuments. In the process, the volume develops a new theoretical framework while proposing new methodological tools and resources for studying collective remembrance beyond the nation-state.
http://www.degruyter.com/view/product/428514
Necropolitics: Mass Graves and Exhumations in the Age of Human Rights
Edited by Francisco Ferrándiz and Antonius C. G. M. Robben
Necropolitics: Mass Graves and Exhumations in the Age of Human Rights
examines thepolitical and social implications of this sensitive undertaking in specific local and national contexts. International forensic methods, local-level claims, national political developments, and transnational human rights discourse converge in detailed case studies from the United States, Argentina, Chile, Peru, Spain, Bosnia-Herzegovina, Greece, Rwanda, Cambodia, and Korea. Contributors analyze the role of exhumations in transitional justice from the steps of interviewing eyewitnesses and survivors to the painstaking forensic recovery and comparison of DNA profiles. This innovative volume demonstrates that contemporary exhumations are as much a source of personal, historical, and criminal evidence as instruments of redress for victims through legal accountability and memory politics.
http://www.upenn.edu/pennpress/book/15356.html
Commemorating Writers in Nineteenth-Century Europe. Nation-Building and Centenary Fever
Edited by Joep Leerssen and Ann Rigney
The many statues to writers dotted around the cities of Europe are the leftovers of a wave of commemorations which passed across the continent in the nineteenth century.
Commemorating Writers in Nineteenth-Century Europe
is the first volume to study this phenomenon in depth, offering both detailed accounts of the cults of individual writers and a comparative perspective on the spread of centenary fever across Europe. The result is fascinating insights into the interaction between performance, cultural memory and identity, and into the role of literature as a platform for both the negotiation of conflict and the celebration of common values. The comparative approach reveals how national identities were established along comparable lines in different countries, and how they were entangled in complex ways with struggles for power and prestige at local, regional and transnational levels. Among the fifteen cases studied, the English reader will encounter familiar names like Scott, Burns, Goethe, Dante, Petrarch, Cervantes and Camões, but also less familiar ones, such as Petőfi, Prešeren, and Vondel. This study offers a radically new perspective on the trans-European cult of literature in the nineteenth century and on its societal importance.
http://www.palgrave.com/page/detail/?K=9781137412133
The Historical Uncanny. Disability, Ethnicity, and the Politics of Holocaust Memory
Susanne C. Knittel
The Historical Uncanny
explores how certain memories become inscribed into the heritage of a country or region while others are suppressed or forgotten. In response to the erasure of historical memories that discomfit a public's self-understanding, this book proposes the historical uncanny as that which resists reification precisely because it cannot be assimilated to dominant discourses of commemoration.
Focusing on the problems of representation and reception, the book explores memorials for two marginalized aspects of Holocaust: the Nazi euthanasia program directed against the mentally ill and disabled and the Fascist persecution of Slovenes, Croats, and Jews in and around Trieste. Reading these memorials together with literary and artistic texts, Knittel redefines "sites of memory" as assemblages of cultural artifacts and discourses that accumulate over time; they emerge as a physical and a cultural space that is continually redefined, rewritten, and re-presented.
In bringing perspectives from disability studies and postcolonialism to the question of memory, Knittel unsettles our understanding of the Holocaust and its place in the culture of contemporary Europe.
http://fordhampress.com/index.php/the-historica-uncanny-cloth.html
Emerging Memory
Photographs of Colonial Atrocity in Dutch Cultural Remembrance
Paul Bijl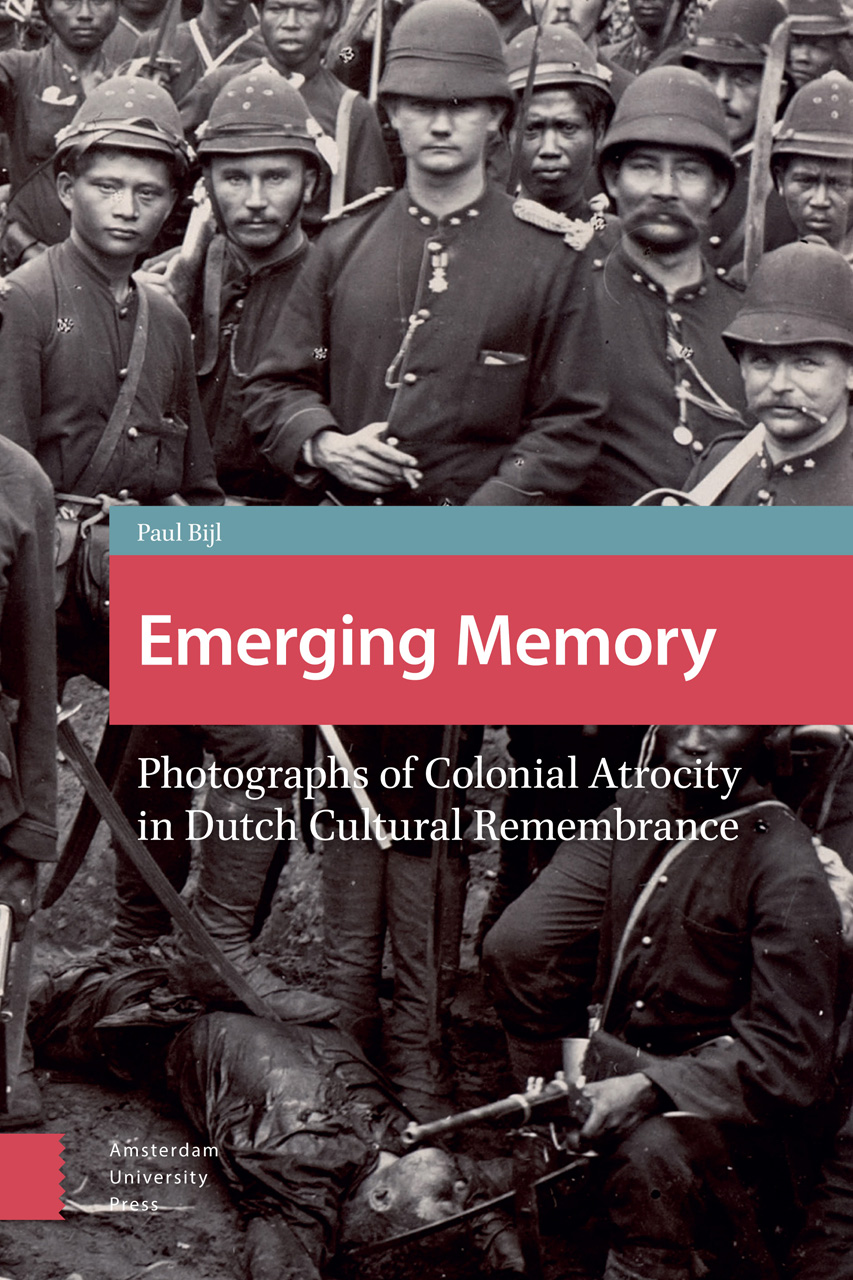 This incisive volume brings together postcolonial studies, visual culture and cultural memorystudies to explain how the Netherlands continues to rediscover its history of violence in colonial Indonesia. Dutch commentators have frequently claimed that the colonial past and especially the violence associated with it has been "forgotten" in the Netherlands. Uncovering "lost" photographs and other documents of violence has thereby become a recurring feature aimed at unmasking a hidden truth.
The author argues that, rather than absent, such images have been consistently present in the Dutch public sphere and have been widely available in print, on television and now on the internet.
Emerging Memory
shows that between memory and forgetting there is a haunted zone from which pasts that do not fit the stories people live by keep on emerging and submerging while retaining their shadowy presence.
http://en.aup.nl/books/9789089645906-emerging-memory.html
Postcolonial Germany
Memories of Empire in a Decolonized Nation
Britta Schilling
At the end of the First World War, Germany appeared to have lost everything: the lives of millions of soldiers and civilians, control over borderland territories, and, above all, a sense of national self-worth in the international political arena. But it also lost almost three
million square kilometres of land overseas in the form of colonies and concessions in Africa, China, and the Pacific. Allied powers declared Germany unfit to rule over overseas populations, and it was forcibly decolonized. It thus became the first 'postcolonial' European nation that had participated in the 'new imperialism' of the modern era.
The end of colonialism was the beginning of a memory culture that has been remarkably long-lived and dynamic.
Postcolonial Germany
traces the evolution of the collective memory of German colonialism, stretching from the loss of the colonies across the eras of National Socialism, national division, and the Cold War to the present day. It shows to what extent this memory was intimately bound to objects of material culture in the former colonial metropole, such as tropical fruit sold at colonial balls, state gifts handed to the former colonies at independence, and ethnological items kept as family heirlooms.
The study draws on a wide range of sources, including popular literature, oral history, and previously unexplored archival holdings. It marks an important shift in historical methodology, considering the significance of both material culture and private memories in constructing accounts of the past. Above all, it raises important questions about the public responsibilities of postcolonial nations and governments in Europe and their relationship to the private legacies of colonialism.
https://global.oup.com/academic/product/postcolonial-germany-9780198703464?cc=nl&lang=en&
Past Publications
Ned Kelly as Memory Dispositif
Media, Time, Power, and the Development of Australian Identities
Laura Basu
Nineteenth-century outlaw Ned Kelly is perhaps Australia's most famous historical figure. Ever since he went on the run in 1878 his story has been repeated time and again, in every conceivable medium. Although the value of his memory has been hotly contested – and arguably because of this – he remains perhaps the main national icon of Australia. Kelly's flamboyant crimes turned him into a popular hero for many Australians during his lifetime and far beyond: a symbol of freedom, anti authoritarianism, anti imperialism; a Robin Hood, a Jesse James, a Che Guevara. Others have portrayed him as a villain, a gangster, a terrorist. His latest incarnation has been as WikiLeaks founder and fellow Australian "cyber outlaw" Julian Assange.
The fascinating case of this young outlaw provides an important opportunity to further our understanding of the dynamics of cultural memory. The book explains the processes by which the cultural memory of Ned Kelly was made and has developed over time, and how it has related to formations and negotiations of national identity. It breaks new ground in memory studies in the first place by showing that cultural memories are formed and develop through tangles of relations, what Basu terms
memory dispositifs.
In introducing the concept of the memory dispositif, this volume brings together and develops the work of Foucault, Deleuze, and Agamben on the dispositif, along with relevant concepts from the field of memory studies such as
allochronism, colonial aphasia,
and
multidirectionality,
the
memory site
– especially as developed by Ann Rigney – and Jan Assmann's
figure of memory.
Secondly, this work makes important headway in our understanding of the relationships between cultural memory and national identity, at a time when matters of identity appear to be more urgent and fraught than ever. In doing so, it shows that national identities are never purely national but are always sub- and transnational. The Ned Kelly memory dispositif has made complex and conflicting contributions to constructions of national identity. Ever since his outlawry, the identities invested in Kelly and those invested in the Australian nation have, in a two-way dynamic, fused into and strengthened each other, so that Kelly is in many ways a symbol for the national identity. Kelly has come to stand for an anti-establishment, working class, subaltern, Irish-inflected national identity. At the same time he has come to represent and enforce the whiteness, hyper-heterosexual masculinity and violence of "Australianness". Basu shows that Kelly has therefore always functioned in both radical and conservative ways, often both at once: a turbulent, Janus-faced figure.
http://www.degruyter.com/view/product/183326
Mediation, Remediation, and the Dynamics of Cultural Memory
Edited by Astrid Erll and Ann Rigney, in collaboration with Laura Basu and Paul Bijl
This collection links the use of media to the larger socio-cultural processes involved in collective memory-making. The focus in particular is on 'mediation' and 'remediation' as two fundamental aspects of media use, and on the dynamics between them.
Key questions are: What role do media play in the production and circulation of cultural memories? How do mediation, remediation and intermediality shape objects and acts of cultural remembrance? How can new, emergent media redefine or transform what is collectively remembered?
This book first appeared as a hardback volume in the De Gruyter series
Media and Cultural Memory Studies
. With the present book the original articles are reissued in an affordable paperback edition for graduate students and scholars in the field of Media and Memory Studies.
http://www.degruyter.com/view/product/182383
The Afterlives of Walter Scott. Memory on the Move
Ann Rigney
Sir Walter Scott (1771-1832) was once a household name, but is now largely forgotten. This book explores how Scott's work became an all-pervasive point of reference for cultural memory and collective identity in the nineteenth century, and why it no longer has this role.
Ann Rigney breaks new ground in memory studies and the study of literary reception by examining the dynamics of cultural memory and the 'social life' of literary texts across several generations and multiple media. She pays attention to the remediation of the Waverley novels as they travelled into painting, the theatre, and material culture, as well as to the role of 'Scott' as a memory site in the public sphere for a century after his death.
Using a wide range of examples and supported by many illustrations, Rigney demonstrates how remembering Scott's work helped shape national and transnational identities up to World War One, and contributed to the emergence of the idea of an English-speaking world encompassing Scotland, the British Empire and the United States. Scott's work forged a potent alliance between memory, literature, and identity that was eminently suited to modernization. His legacy continues in the widespread belief that engaging with the past is a condition for transcending it.
The phenomenon of Scott's rise and fall is explained from the perspective of cultural memory studies
Scott's writings are studied as active ingredients within a broader cultural and social framework and not just as autonomous pieces of literature
Includes many hitherto unknown examples from a range of cultural expressions, from theatre to material culture, showing the influence of Scott
Richly illustrated with visual materials in a way that 'concretizes' the story being told
http://ukcatalogue.oup.com/product/9780199644018.do
Europa Europa!
Over de dichters van de Grote Oorlog
Geert Buelens
In de Europese geschiedenis vormt de Eerste Wereldoorlog een keerpunt, niet alleen politiek maar ook cultureel. De Grote Oorlog wordt wel de Literaire Oorlog genoemd, omdat gedichten als 'In Flanders Fields' tot op de dag van vandaag tot het collectieve geheugen over de wereldbrand behoren. Over Britse dichters als Siegfried Sassoon en Wilfred Owen verschenen al tientallen studies, maar nooit eerder werd het verhaal van de oorlog verteld in zijn volledige Europese context.
Aan de hand van hun werk en lotgevallen belicht Geert Buelens in dit boek hoe onder meer Rainer Maria Rilke, Fernando Pessoa, Paul van Ostaijen, Anna Achmatova, Vladimir Majakovski, Giuseppe Ungaretti en Guillaume Apollinaire de oorlog hebben beleefd en beschreven. We zien hoe de Italiaanse futuristen enthousiast campagne voerden om hun land in het conflict te betrekken, maar ook hoe in 1916 het dadaïsme ontstond vanuit een gevoel van walging over een cultuur die zo'n oorlog voortbracht. Gedichten werden massaal ingezet als propagandamiddel, maar tegelijk ook om te experimenteren met nieuwe vormen en ideeën.
http://www.amboanthos.nl/boek/europa-europa/
Deutsche Übersetzung:

Europas Dichter und der Erste Weltkrieg
Im sonnenüberfluteten Europa entflammte im Sommer 1914 eine bis dahin beispiellose Form von Kriegshysterie. Millionen Männer zogen singend an die Front. Dichter standen dabei überall in vorderster Linie. Englische war poets und deutsche Expressionisten, französische Dadaisten und russische Futuristen, flämische, ungarische, baltische Akteure kämpften nicht nur mit der Waffe, sondern auch mit dem Wort. Innerhalb der europäischen Nationen und ethnischen Volksgruppen wogten nationales oder befreiungsbewegtes Pathos,
Internationalismus und weltrevolutionäre Emphase, Desillusion, Hass und Verzweiflung unrhythmisch auf und nieder.
Geert Buelens liefert mit seinem bereits mehrfach ausgezeichneten Buch ein wahrhaft europäisches Panorama, nicht nur der Lyrik des frühen 20. Jahrhunderts, sondern auch und vor allem der Menschen, die sie schrieben. Er bezieht dabei neben bekannten rotagonisten wie Pessoa, Majakowski, Marinetti, Apollinaire, Trakl, Sassoon auch viele andere, weniger bekannte Dichter mit ein.
Europas Dichter und der Erste Weltkrieg
ist eine beeindruckend umfassende, engagierte Studie über die gesellschaftliche Tragweite von Literatur, ein temperamentvoll und mit literarischer Ambition geschriebenes Stück Mentalitäts-, Kultur-, Kriegs- und politischer Geschichte.
http://www.suhrkamp.de/buecher/europas_dichter_und_der_erste_weltkrieg-geert_buelens_42432.html
Political Violence and Trauma in Argentina
Antonius C. G. M. Robben
For decades, Argentina's population was subject to human rights violations ranging from themerely disruptive to the abominable. Violence pervaded Argentine social and cultural life in the repression of protest crowds, a ruthless counterinsurgency campaign, massive numbers of abductions, instances of torture, and innumerable assassinations. Despite continued repression, thousands of parents searched for their disappeared children, staging street protests that eventually marshaled international support. Challenging the notion that violence simply breeds more violence, Antonius C. G. M. Robben's provocative study argues that in Argentina violence led to trauma, and that trauma bred more violence.
In this work of superior scholarship, Robben analyzes the historical dynamic through which Argentina became entangled in a web of violence spun out of repeated traumatization of political adversaries. This violence-trauma-violence cycle culminated in a cultural war that "disappeared" more than ten thousand people and caused millions to live in fear.
Political Violence and Trauma in Argentina
demonstrates through a groundbreaking multilevel analysis the process by which different historical strands of violence coalesced during the 1970s into an all-out military assault on Argentine society and culture.
Combining history and anthropology, this compelling book rests on thorough archival research; participant observation of mass demonstrations, exhumations, and reburials; gripping interviews with military officers, guerrilla commanders, human rights leaders, and former disappeared captives. Robben's penetrating analysis of the trauma of Argentine society is of great importance for our understanding of other societies undergoing similar crimes against humanity.
http://www.upenn.edu/pennpress/book/14156.html
Voices in Ruins. West German Radio across the 1945 Divide
Alexander Badenoch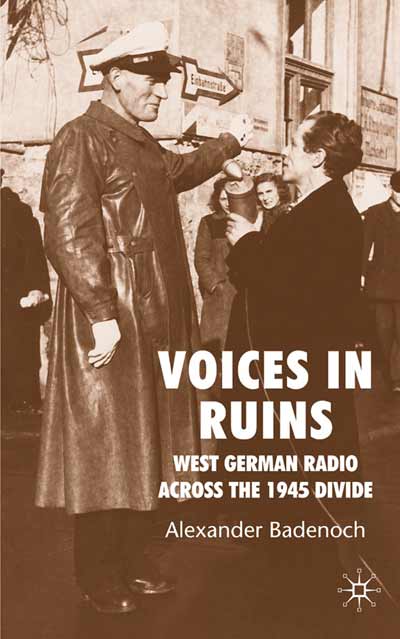 In the years immediately after the Second World War, when Germany was destroyed, divided and occupied, the radio was the best-preserved and most popular medium of mass communication. In Voices in Ruins, Alexander Badenoch explores the implications of radio's dominance at the time by placing it within the longer history of Germany's mass media to highlight the dynamics of continuity and change after 1945.
The book examines not just what was broadcast but how, and argues that the structures of time, space, personality and gender inherent in broadcasting were a key site where ideas of 'normal' and 'exceptional', 'public' and 'private', Heimat and Fremde were negotiated. Based around original archive research and a broad interdisciplinary approach, the book will be of interest to scholars in a wide range of disciplines including German Studies, Film and Media Studies, Gender Studies and Memory Studies.
Winner
of the 2009 IAMHIST Prize in Media and History
http://www.palgrave.com/page/detail/voices-in-ruins-alexander-badenoch/?K=9780230009035
Geschichtsbilder und Zeitzeugen.
Zur Darstellung des Nationalsozialismus im bundesdeutschen Fernsehen
Judith Keilbach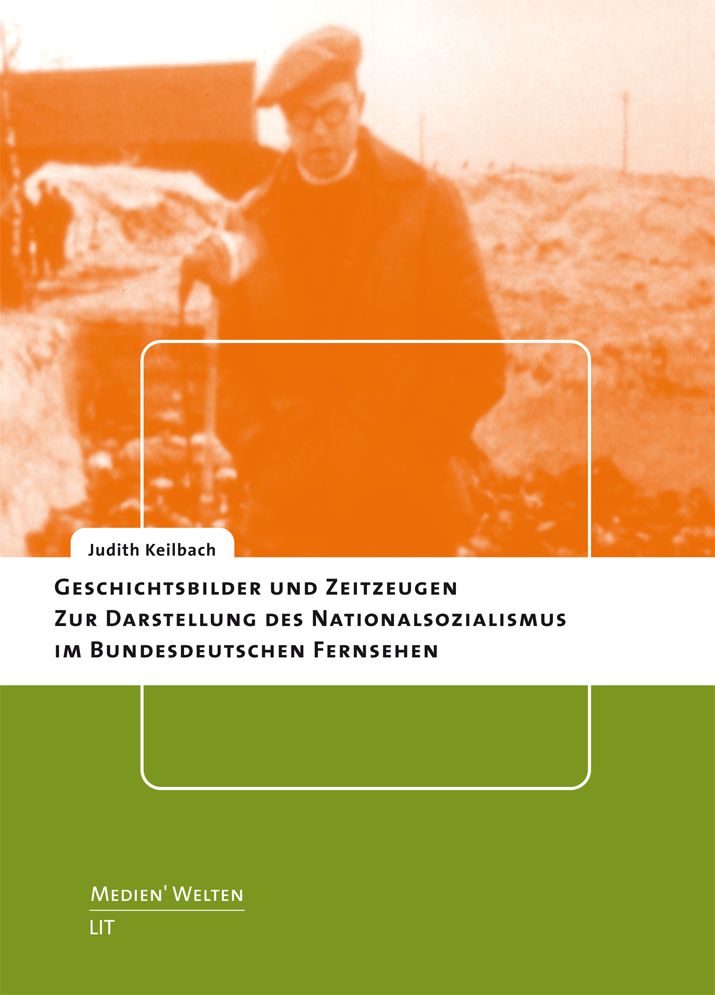 Die nationalsozialistische Vergangenheit ist ein prominenter Gegenstandsbereich des Geschichtsfernsehens. In dokumentarischen Sendungen werden dabei vor allem historisches Bildmaterial und Zeitzeugen eingesetzt, um den Fernsehzuschauern die Vergangenheit vor Augen zu führen und ihnen historische Erfahrungen nõher zu bringen.
Die vorliegende Studie beschäftigt sich anhand exemplarischer Sendungen aus der bundesdeutschen Fernsehgeschichte mit den Schwierigkeiten, die diese beiden Elemente für die Darstellung der nationalsozialistischen Vergangenheit beinhalten, sowie mit den unterschiedlichen Verfahren und den historischen Veränderungen im Umgang mit Geschichtsbildern und Zeitzeugen.
http://www.lit-verlag.de/isbn/3-8258-1141-9